Frankenstein slot machine
From the very start, from its intro video, Frankenstein slot excites you with the darkest underworld between life and death. As the story has it, Dr. Victor Frankenstein loses his brother in an absurd accident. Feeling guilty for the death of his dearest and nearest, the doctor strives to find a way to revive his brother's dead and cold body. So Dr. Frankestein collects dead bodies fragments and as a result he gets a creature that frightens Frankenstein.
Frankestein's features and general description
Today Frankenstein is one of the most famous characters of all times, so no wonder NetEnt have a slot themed after Mary Shelley's "Frankestein, or The Modern Prometheus". This slot is totally themed after it – it's easily seen in every element of the design. The reels, the background and even the functional panel (which is quite remarkable for an online slot as this detail is not always thought-through).
On the reels you meet Dr Frankenstein, his assistant Fritz (who actually appeared only in Mary Shelley's novel adaptions), the monster and also find some attributes of the experiment like the brain. There are also play cards symbols – its payouts are quite low, you may get only up to 150 credits, but other symbols award you from 20 credits up to 1500!
And that's not all. There are several wilds that boost your chances of bigger wins. The Lightning wild appears only on reels 2, 3 and 4 and substitutes for all except scattered symbols. The Fire wild appears after each (!) free spin – again only on reels 2, 3 and 4 but it substitutes not only for scatters, but the multipliers too.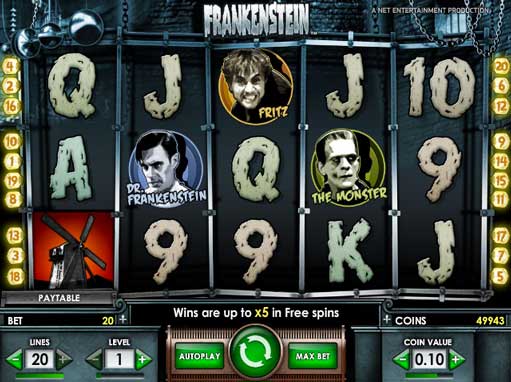 The scatters activate 10 free spins during which you can win additionally 5 or 10 spins. The multiplier appears only on the fifth reel and is progressive which means it increases by one each time.
In general, the game is full of details that will please any gambler – it's about both the looks and the functions. Though the idea doesn't seem unique, it's a good adaptation in the field of slots after all.