Online Fortune Teller slot
Do you believe in fortune-telling? Can a fortune teller see your fate by looking into a crystal ball? Well, no one can say for sure. What can be said for sure is that in Fortune Teller slot you are definitely going to get adrenalin burst at a prospect of winning.
Learn how to play Fortune Teller
Fortune Teller has 5 spinning reels and 30 paylines. You can bet 1 to 4 coins for each payline at a par of 1 to 50 cents. The symbol of Romanian gypsy, holding a tarot card, appears on the screen. In her hands there is a crystal ball, which is a scatter symbol. It is able to activate the Free Spins bonus game, which means you can win a lot of money without investing a dime. All winnings, obtained during free spins, are tripled.
The maximum payout of Fortune Teller slot game is 7,500 coins. Naturally, your winnings will depend on what you have bet and how many coins you bet on each line. The more risk is, the more you can get. Because you can put a maximum of 120 coins, and the maximum value of coins is 50 cents, the maximum sum for spinning is $60. However, this demo is played for virtual credits like other online pokies. To play for money, check out our reviews of casino clubs.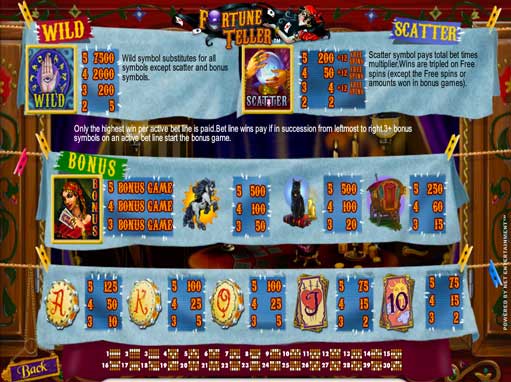 The wild symbol in the game is a palm or reading palmistry. It substitutes all the other symbols in the game. However, it cannot replace the symbol of a crystal ball and cannot activate the bonus game of tarot cards.
Scatter symbol is a symbol of a crystal ball, which is held by the fortune teller in her hands. This animated character can appear wherever it wants and still bring you profit in the presence of at least two other scatter symbols. Payments are made according to the tariffs that are specified in the paytable. When 3 or more scatter symbols are matched, a bonus game is activated, which provides free spins.
In a bonus game of tarot cards you can win by selecting and opening the cards of the three rows. Along with the cards, there are maps of death. Once you open a map, the game ends. Among the game symbols you can see a horse, a black cat, the tent, and playing cards.