Sugar Pop slot game
Great news for anyone having a sweet-tooth – Betsoft has released a marvelous gaming machine devoted to sweets. Sugar Pop slot machine will surprise gamblers with its unusual interface, the variety of functions, colorful exterior and other advantages. Let's see which ones.
Unusual gameplay and the sweetest features
This is a unique slot that doesn't have the traditional reels and paylines. On the main screen you're going to see a 5x5 scheme with symbols depicting all sorts of sweets. As each round begins they fall, filling the grid.
Gameplay in general reminds the classic Lines98, since your aim is to receive as many same symbols touching horizontally or vertically as possible. If it happens with at least 3 candies of matching color, they will pop. Candies above them will cascade down and you'll get rewarded from 4 to 20 credits for each popped candy.
What's really important is that combinations can be formed in any spot of the reels, so now you can forget about the boring rule that a winning combination starts with only the leftmost or the rightmost reel. In addition to that, your chances of wins are increased by the Special candies that appear on the reels randomly. They can also occur after bigger combinations, like 4 or more candies, pop.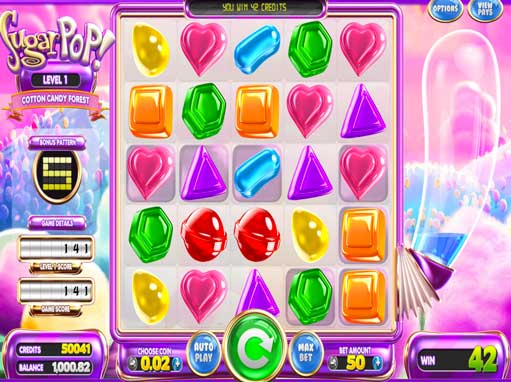 But the main gem of the game is the Level Up feature. With each successful combination you earn points that fill the bar on the right. Every time it's filled, you reach the next level with new bonuses. For example, on level 4 a white chocolate becomes available – this thing shoots the surrounding candies with almonds, whereas on level 20 a tornado of pink cotton candy may occur to sweep up huge prizes!
There's also a bonus pattern that you'll see on the left – clearing it you get 600 extra points to your level.
To sum up, it's an action-packed game – each new spin brings some events in the game. Tons of unique features and extraordinary gameplay will make hours fly any time you start a session. Just take your first spin and see for yourself!