Max Damage arcade slot
Gamblers won`t find reels, pay lines and even game symbols here. Max Damage slot is not a classic casino slot. Developers actually call it arcade slot game at all. The game thematic is the war against space invaders. It is a breath-taking journey in the space. So, you have a brilliant chance to win awesome winnings playing this unusual Microgaming software.
Game mechanics or how to earn money playing
The space ship is settled down on the bottom of the screen, gamblers can move from left to right with a help of keyboard arrows. Invaders come from the top of the screen, gamblers task is to destroy them before they come to the board of the screen, because when they rich bottom your spaceship will be ruined. Be careful, some invaders can use weapons and break your ship, that`s why it is useful to keep an eye on health and shield levels.
Destroying invaders with weapons, players will receive different types of useful bonuses. Life bonus will grant one life to your ship in order to survive for a long period. You can heal your ship and restore ship`s shield with a help of Heal and Shield bonuses respectively. Alternatively, you can become a real destroyer when you pick up Damage Booster, which will upgrade you weapon significantly. Well, if you adore slots related to space, you may check out Galacticons slot too.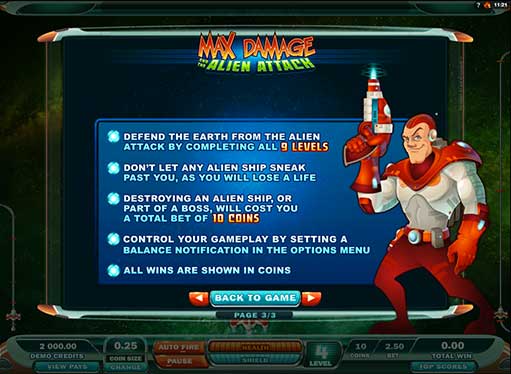 Boss battles
There are nine different levels, which will help to earn money. In the end of each level slot shows how many coins gamblers have earned. And don`t forget about bosses. Each three levels game boss will appear. This will require special skills, reaction speed, agility and attention. Boss killing is a hard job, but is rewarded respectively!
When a gambler passes all levels, he will receive huge winnings. However, in order to receive the winnings, it is not necessarily to pass whole game until the end. The main thing is to finish at least one level or destroy alien craft.
In conclusion, we can say that Max Damage is really simple for gamblers who have never played arcade games. It is a first arcade slot machine and Microgaming have high expectations on it!