Gypsy Rose slot review
Surely at least once in a lifetime you had to deal with the gypsies, persistently offering to tell fortunes and predict your fate. Usually parents teach us to stay away unless you want to part with all the money you have with you. But Gypsy Rose, the main character of the brand-new Betsoft slot, is nothing like that. It's a pretty charming girl who is no threat to you. In addition, in her company, you can enjoy the incredible features that are available Gypsy Rose slot with its excellent 3D graphics in high definition.
Incredible features and general description
Looking into her crystal ball, Rose stands on the left from the reels. Behind her we see the outdoor lantern with butterflies flying around it. 5 reels stand against a Gypsy Wagon with thoroughly drawn details. The action takes place probably in a magic forest, so along with the music everything you see on the screen has a relaxing and capturing effect as if by a spell.
30 paylines are waiting for the gamblers to push their luck and see if they can receive the best and most lucrative symbols on the reels. Just like in thousands of other free slots, here you're going to find the play cards 10-A symbols but this time they look completely refreshed – not just a letter, but a full image with its unique details. And these icons are not just beautiful but also pay up to 90 credits for 5 of a kind on an active payline.
Next symbols are Rose herself, a love potion, a magic book and a black crow. Although a winning combination must start only from the leftmost reel, your wins can be huge – a single symbol can bring you from 10 to 300 credits. But the greatest pleasure you'll get from the features – the bonus system here is quite complicated and thus more interesting!
First of all, you may count on the standard wild that you expect from any slot. In this gaming machine it may bring you up to 1000 credits but it appears only on reels 1 and 5. Although, if 2 wilds appear on activated lines 1, 2 or 3, Rose will toss some more wild cards on the reels!
There are 4 unique features, involving a crystal ball, that are connected with 4 aforementioned magical symbols. All you have to do is wait for the crystal ball to appear on reel 3 and then, if one of those symbols appear adjacent on reels 2 and 4, a special feature is triggered. If it's the love potion symbol, you get free spins and what's important – that happens even if you're already in free spins mode. If it's crows that appears adjacent to the ball, it becomes wild. When it's magic books, you win an instant credit reward.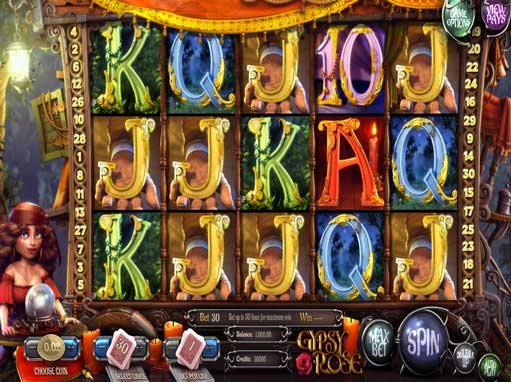 But the most curious bonus follows the Rose symbol, appearing adjacent to the ball – thus you trigger a bonus round where you're going to choose 7 cards out of 15. The more matching colors and characters you reveal, the more you earn.
If you're lucky enough to have small wins crop up often, then you can risk and double them in a mini game. After any successful spin you can click the 'Double' button and flip a coin. But be careful – unless you guess correct what turns up, you lose the current win!
In general, it's a beautiful and to a great extent unique game. Gypsy Rose is able not just to entertain you with fortune telling but make you really rich. So if you're not afraid to risk, take a spin and learn your fate!