Alien slot machine
It's been several years since the Swedish Net Entertainment company has become one of the leaders in the world of online gambling. That's why the software of the company is always of high quality. In 2014 NetEnt has released a few slots that immediately became very popular in many online casinos. This time the company pleased their customers with a brand-new 3D slot Aliens.
Alien slot machine features – discover something totally new
The new slot has 5 reels and 15 paylines. As this video slot is themed after the iconic Aliens thriller movie you're going to find its characters on the reels – all sorts of 'alien family members'. All of them give different payouts: for 3 symbols of a kind you're going to get from 3 to 30, for 4 from 15 to 150, and for 5 from 30 to 1000! Following the tradition, the slot has wilds and scatters. The wild will substitute for any symbol and the scatters will trigger bonus rounds or free spins. But the greatest feature is the new 3 levels. In the first level you search for areas of alien activity. The more multipliers you get in this level, the higher are wins in the next level. In the second one you fight the monsters to get to the Queen Hive – be careful not to run out of ammunition! When the level is completed, you move on to the last one where you have to destroy the Queen and her Hive.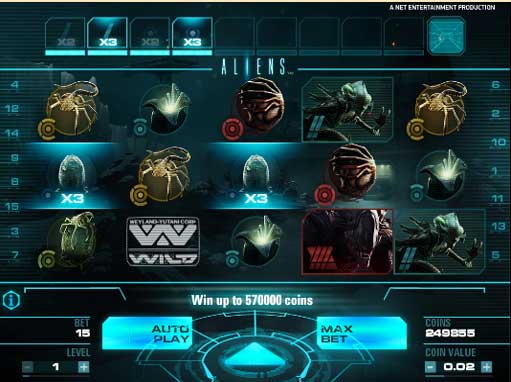 The brand-new feature with Levels makes the slot outstanding and totally unlike others. The slot machine will take you to space where you will encounter real dangers, take part in fierce fights, make your way to the main hall of the Queen and fight the monsters. Thrilling plot, animated characters, impressive sound effects – this all makes you plunge into the events and feel like you're really there, fighting the alien evil.