About Machu Picchu slot
Centuries have passed since the time when the Inca civilization had existed, but, of course, people are still interested in it. Microgaming couldn`t have missed this interesting theme and created a relevant online slot. It provides a gambler with 5 spinning reels and 20 paylines. Also, playing Halloweenies slot, you will find the same number of reels and paylines. You can make bets at a range of 0.01 to 50. Totally, you wager 300 coins per spins.
Treasures of the Inca civilization
The wild symbol of the game is a pinnacle of the Machu Picchu Mountains. It substitutes all the other symbols except for the scatter one. Five wild symbols in one row provide you with 5000 coins bonus. The scatter symbol is Llama. In case you manage to match two or more scatter symbols in a row, you receive a bonus game.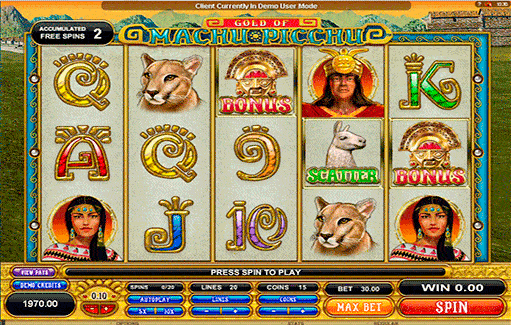 During bonus game you have 7 free spins. If you are lucky to match two or more of the hidden Incan artifacts, your gain will be multiplied by as much as fifteen times at once! Besides, an additional free spins are given if you match virgin and the Inca symbols near each other in one row. The jackpot numbers 5000 coins. So, this free slot is your chance to reveal the entrails of the Machu Picchu Mountains and gain the innumerable treasures hidden in the depth of them.