Attraction slot game for fun
If you've never been good at Science and Physics but still dream of a scientist's career, NetEnt's going to let you experience working in a laboratory. In Attraction slot you're going to deal with electricity. The job will seem especially appealing the moment you learn about the features there are for you. Taking this into account, the payouts will seem fantastic. The game, in general, is definitely interesting for any player, irrespective of whether it's a beginner or an experienced gambler. Let's see why!
Attraction by NetEnt – attractive features and payouts
The first thing you pay attention to is the design. The reels, the background, the symbols – it all seems 'scientific' – really reminding of Science classes in school. The colors mix in a harmony of mainly blue and pink shades. Unfortunately, there's one thing about the looks of the gaming machine – the functional panel in the bottom isn't themed at all. Just the usual buttons in the usual order.
But the symbols make up for it: you'll see some crazy machines and devices to measure and operate. There are also the conventional play cards symbols but this time they look a bit more interesting. The parts of the figures and letters are made of steel and each looks like a part of a lock, a ruler or some mechanism.
All of them give different payouts: playcards award you up to 8 credits for 3 icons of a kind on one of 10 active paylines, up to 25 credits for 4 icons and up to 100 for 5. Others of course pay a lot more – for 4 icons you may get 150 credits and for 5 icons from 150 to 500. So, it is a prefect game for gambling at online casino club.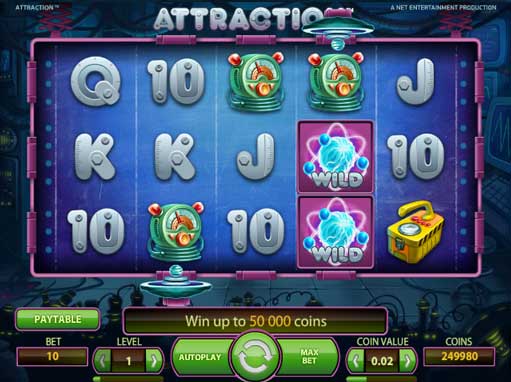 If that didn't sound impressive, look at the magnet – see it on the frame of the reels? This thing is totally a unique brand­new feature. It only works when the wild symbol is on the same reel as the Magnet. When the positions are like that, the wild expands to cover the whole reel and becomes sticky during a free re­spin!
Besides, there will be 2 magnets when this re­spin happens and each time there will be more and more as wilds get into the Magnet's way. To sum up, in comparison to other NetEnt's products, the game might seem not as brilliant due to the functional panel, but the design in other elements is eye­catching and makes you want to spin the reels. The design, in general, makes you interested at first sight and you find out what features there are, you've got no other wish but to spin the reels.