Boom Bucks slot
Boom Bucks slot is a classic slot game that will especially appeal to experienced gamblers who have played tons of slots and now are looking for something simple and lucrative, yet with qualitative graphics, thought-out functions and effective payouts system. Let's see what this product by Betsoft can offer its players.
Symbols, features and design
Boom Bucks definitely doesn't look like an average slot. Though it's a classic one, it looks quite unique. When you start the game, you don't see the usual reels and a panel in the bottom. The exterior is just like a land-based gaming machine and that really creates the atmosphere that players will appreciate. To tell the truth, it looks like Ultra Hot slot.
There are 3 reels with 5 paylines that are always activated. Apart from the reels there also a wheel in the upper part of the screen that can award you additional payouts. In this game you can bet either 4 or 8 coins. When you bet 4, the blue figures on the wheel are activated. If you choose 8 coins, the red numbers become active.
In order to win players have to receive 3 symbols of a kind on a payline. The paytable is always in front of you in the right upper corner. There you learn that on the reels you're going to find cherries, lemons, oranges, plums, watermelons, grapes, bells, pears, bars and bombs. The two latter are the most lucrative and depending on your bet they can bring you 100 or 200 coins!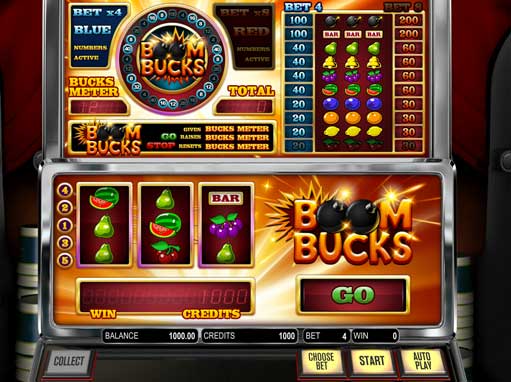 As it was said before, each time you take a spin you have the chance to get additional coins. The wheel shows numbers either 4-100 or 12-200 – these are the amount of coins you can win. A special window on the right from the reels shows 3 words: 'go', 'stop' and the 'Boom Bucks' logo. 'Go' means that the number displayed on the wheel is added to the Bucks Meter, 'Stop' is followed by a reset, and if you see the logo you receive the number of coins shown in the Bucks Meter.
To sum up, the game looks quite different from the most of classic slots and the payouts promised are quite high. But the feature with the wheel makes it rather difficult to earn, and yet – the bigger the risk, the greater the pleasure from the rare wins. And the last thing to mention is the sound effects – every spin is accompanied by some strange noise with a loud 'Yeah!' in the end. Well, if not annoying, it may seem at least strange.