Thunderstruck 2 casino slot online
Microgaming released its Thunderstruck 2 slot machine on the 4th May, 2010 and since then the game has become even more popular than the first version. The secret is quite simple: a proper balance of skillful graphics, sound effects and a general gameplay keeps a player interested in big wins. Also try the Shoot slot online.
Thunderstruck 2 differs greatly from its original predecessor and possesses four free spin features a player must unlock. A bet amount is limited to $15 but some casinos increased it to $30 in the autumn 2012.
Features of the Thunderstruck 2
The main game features are as follows. First, the game has 5 reels and 243 paylines and at the same time looks more like Tombrider II than the Thunderstruck I in terms of style. Four various free spin bonus rounds as well as 6x multiplayer combined with 25 free spins are available. Collect scatter symbols (Thor`s hammer is a scatter) and get free spins. To find more detailed information about free games and symbols click on View Pays button.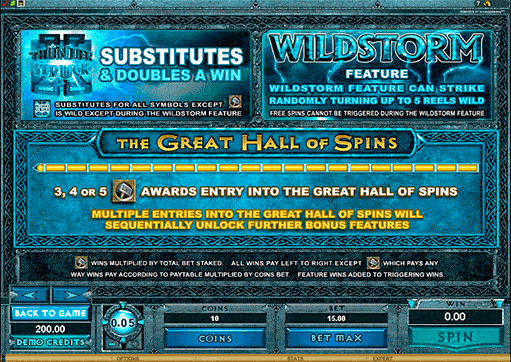 Play the Thunderstruck 2 for free
At the same time Thunderstruck 2 belongs to lower risk slot games. That means your money will last for a longer time but instead you will receive breath-taking wins very seldom. The whole thing is quite simple and straightforward: bigger bets – higher payouts. So if you want to spent your leisure time happy Thunderstruck 2 will provide an opportunity to double your money and it is stunning. So, don`t waste your time and enjoy this fantastic slot machine for free right now.