Ned and his friends slot
This time it's a story of a young man – Ned – and his friends – rats singing jazz! But don't be afraid as it might sound strange – actually, when you look closely, you'll find them awesome.
Ned's design and symbols
The first thing you see starting the game at webslotcasino is Ned's room where he's sitting in an arm­chair, from time to time drinking coffee and trying to make the remote control work with the words "Why ain't his darn thing working?", and if you don't start spinning for a minute or two, he'll be asking you "What's taking you so long?".
The reels are like integrated into the cupboard. There you're going to find icons of Ned, the door to his room, an icon for each of the 5 singing rats, and a symbol of rats singing together, their hole in the wall, and a symbol of Ned's girlfriend. All of them give different payouts – for 2 symbols of a kind 5­20 credits, 3 of a kind – 10100, 4 of a kind – 25150 and for 5 symbols from 50 up to 500!
Ned and his friends have some nice features
The symbol of singing rats is a symbol with a surprise – get no less than 3 icons of this kind on the screen at any spots and start the Free Spins mode! The rat's hole symbol acts the same way – 3 or more icons found in any place on the reels will activate a mini game. It's called Rat Tail Click Me and you'll have to choose a rat tail to win instantly! There's also a bonus round called Ratty Rat DooWop – just like before, get 3 or more icons on the reels, but this time it's Ned's girlfriend. When the feature's activated, players see her faint as she's found rats running around the room. Now you'll have to choose the soloist out of Ned's friends when they start singing a song in order to wake his girl up.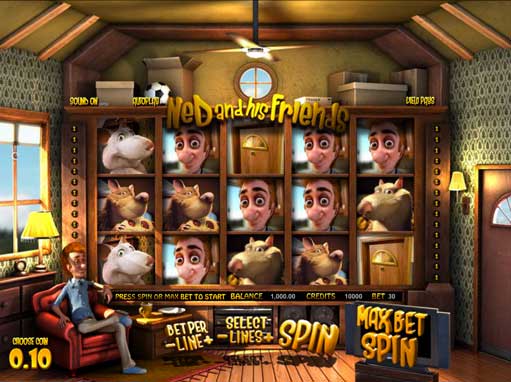 In general, the game has wonderful design, very nice plot – almost a fairy­tale, great quality of graphics and sound effects. The features are quite unique so you'll definitely like spinning the reels of this wonderful 3D slot.