Piggies and the Wolf slot
For a long time Playtech has been focused on creating their famous series of Marvel slots and now the time has come to make some changes. Though the theme is still something unreal, it's no longer comics but a well-known old fairytale in a new interpretation.
What's so fascinating a gambler can find in this slot?
First of all, Playtech did their best indeed to create a visually stunning slot (also you may try Piggy Fortunes slot, it is an alternative version). Beginning with intro and finishing with each detail in the animated bonus games – all this makes the game's graphics astonishing. Though the story can't boast of originality, but it's a curious new interpretation. Each character is an individuality and it should be said, a generous one – 1000, 400 or 250 for 5 symbols of each piggie. Other symbols are the Big Bad Wolf (wild), "Piggies and the Wolf" slot logo (scatter) and a bonus symbol with an image of green planet. All these symbols appear on 5 reels where you've got 50 paylines to push your luck.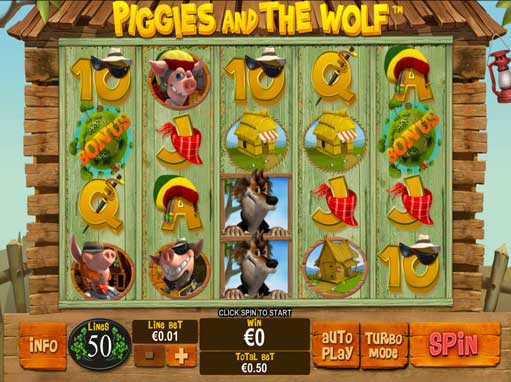 There are 3 bonus rounds and one of them is triggered when the fifth reel is filled with wilds. It's called "Huff'n'Puff" - the Wolf rides around the reels on his bike and blows away all other symbols except those wilds in reel 5, so the benefit from the random re-arrange is added to your win. This feature is triggered quite often and easily unlike the 2 others. One of them – Pig Running wild!" – occurs when the Wolf lands to the right of any Piggie, then the wolf will chase the pig to the left, leaving wilds instead of all the other icons on his way. The other one is "Blow the House Down". Bonus symbol lands anywhere on reels 1, 3 and 5 and the Big Bad Wolf will start blowing the Piggies' houses down with some special moves. If you fail to choose the move for one of the houses correctly, you won't see the final blow, when you must pick one of 3 gas tanks to boost the Wolf's bike so that he could enter the brick house and win the biggest prize. The more houses you blow down, the bigger the cash prize. Besides, there actually 15 free games more and they are triggered by the scatter symbol anywhere on reels 1, 3 and 5.
But there is still something that may frustrate players – low-rollers will be disappointed to find out that all 50 lines must be played at once, but it's not so bad – min bet is 0,01 coin. However, the high-rollers will be even happier for another reason – max bet per line is 50 coins! And after all you've just heard you must see it for yourself – go for it!