Madder Scientist slot online
If you thought Mad Scientist wasn`t mad enough, BetSoft created the sequel to that entertaining slot machine and called it Madder Scientist slot machine. The scientist and his lovely assistant have a rabbit in their lab, but fortunately they are more concerned with experimenting on the carrot than the bunny.
Play Madder Scientist with all features
This 3D video slot has all of the cute and clever touches that only BetSoft programmers can come up with. There is even a mini-movie that plays at the beginning to explain the plot. Every time the player spins, he or she is given the choice of respinning an individual reel for a chance at a better combination and the hope of a winning pay line. This comes as a cost, though, as each reel requires a certain number of credits to respin, ranging from one credit to more than you can afford. Real money players need to take special care not to wipe out a bankroll on a single reel. Surely, you always may play other slots like gaminators or something like that.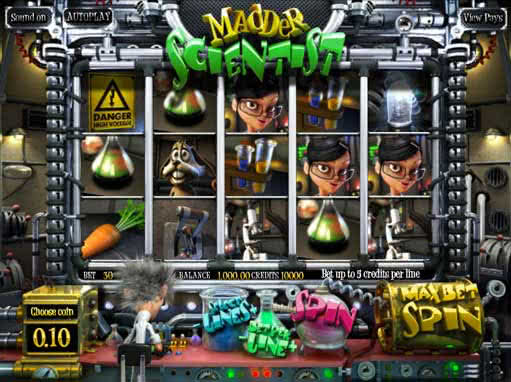 The bonus round lets players choose two chemicals to mix in hopes of turning that carrot into gold, or at least a fair amount of credits. Another feature lets players click on the scatter symbols – beakers – where you can instantly win credits or find free spins. Madder Scientist is a 30-line machine where players can bet up to five credits per line.