Rook's Revenge slot online – an unpredictable way to Aztec's wealth
The brand-new online video slot by Betsoft offers to take a new look at the journey through jungles to find the ancient treasure. A funny and nice plump Aztec, whose name is Rook, will lead you an unpredictable path to success – he's extraordinarily generous and is ready to share the treasures with anyone who's lucky enough to stand all his tests.
What' so new about Rook's Revenge video slot
Everyday new online video slots appear around the internet but they almost never differ, unless it's design and theme – the terms and structure stay the same. But not this time: Betsoft developers created a truly unusual and special game. 5 reels and 25 paylines are actually a stone construction and with each spin it's not the reels that move, it's the stone blocks with Mayan symbols that fall down on the reels. In case the blocks form a combination, they collapse providing space for the new stone blocks to fall. So you don't have to take a new spin - in fact, each winning spin gives you the opportunity to get more than one prize in a single spin. And every time symbols explode, the win multiplier (in the lower right corner) increases – if several winning combinations appear and explode in a row, every time there will be different benefits: if the first explosion gives 3 spins, then the second – 2x multiplier and 6x free spins, the third – 3x multiplier and 9x free spins and the final fourth – 5x multiplier and 15x free spins. After that the win multiplier increase will start all over again. And dont forget to compare it with Lost slot machine.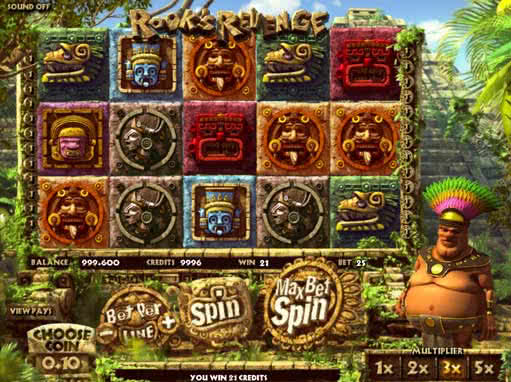 Since the structure of this video slot is very specific, the developers didn't burden the game with extra bonus game, but provided the symbols with special features. For example, the golden mask appears only on reels 1, 2, 3 and triggers free spins mode, while th wild symbol appears only on reels 2, 3, 4 but substitutes for all symbols!
To sum up, there are lots of games themed after ancient civilizations, but this game is definitely something extraordinary – you must those stones falling and hear this Mayan themed soundtrack. It's a unique thing, don't miss it!