Enjoy Wolverine slot machine online
Mega blockbuster movie series X Men and Wolverine still fascinates everyone with their mind-blowing sequences. Therefore, when the same idea took shape in the form of Wolverine slot game, it thrills everyone in the same manner, as does the movie. The creator of famous slot games like Captain America and Iron Man, Playtech again amazes the world with their credibility through its new slot machine. With perfect combination of animation and graphics, the slot gives player a complete new gaming experience, moreover, special features like progressive Marvel Jackpot, legendary superheroes and extra power bonuses provides both plentiful money and crazy fun to the players.
Gameplay, symbols and features
With 25 active playlines and five reels this slot game contains expanding wilds and a bonus free spin game along with progressive jackpot. The main character wolverine is the wild scatter in the game that may stretch up to 3 reels maximum and could replace pieces other than scatters, adamantium and berserker rage. The adamantium is a radioactive glittering substance all over the reels and may provide the player up to 12 free games if he manages to land over three adamantium. The game provides the player to manage the actions of the wolverine through battle bonus to win additional prices and bonuses as well.
The symbols in Wolverine slot game includes the scatter symbols saber tooth, Jean Grey, the Wolverine, claws, Logan, x-rays, Dog Tags, costumes claw and claw marks, each one with its own significances. Saber tooth is the scatter symbol in the game that may produce bonuses and prices with appropriate combinations. The payouts varies in accordance with the symbols appropriative sequences, more active bet could win you more money along with the huge jackpot on the line.
The slot contains some very interesting and unique features such as radioactive adamantium, which might generate bonuses for you, moreover the game contains an auto play mode as well so the player concentrate on his bets only. Another amazing bonus feature of this game is the death match between saber tooth and wolverine; a player may win additional money as well as bonuses through the death match. The progressive marvel jackpot, re-spin bonus, amazing graphics, real looking characters and the famous claw' are obviously the amazing features of the game as well.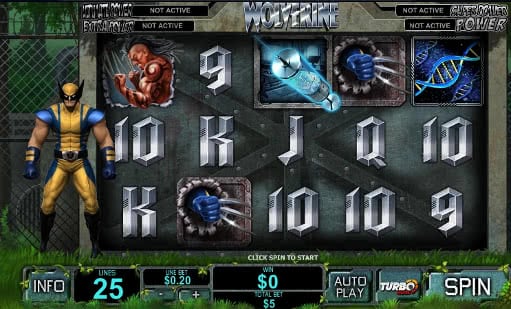 Indeed, Wolverine slot machine is a mind-blowing game, that would stick the players with the game chairs for long duration. You can win lots of money with tons of fun through this game.