Play Barbary Coast slot machine
If you happen to be one of those who loves adventures and thrills then you must try playing Barbary Coast slot, a game where you can join forces with the captain of a pirate ship and fight against rival pirates in order to lay your hands on hidden gold and gems. The themed slot has been designed in such a way that players will have to try their best to please Captain Benjamin Sawyer, the pirate captain, as his crew will behave in a hostile manner with you. So be prepared for an exciting storyline as you play Barbary Coast or try the Fruit Zen slot if you'd rather play something relaxing.
Gameplay and features
The Barbary Coast slot game was launched in the year 2009 by market leader Betsoft and it has maintained it's popularity since then. One of the first 3D slots in the market, it featured brilliant designs and animations that caught the attention of the players. The graphics and sound effects are nothing short of spectacular. Sometimes you may forget that you are actually playing a video game and not watching a movie.
Barbary Coast is predominantly a 5 reel 30 paylines online slot with some very exciting symbols ranging from maps, flags, pirate faces to guns, compasses and treasure. The minimum bet amount is $0.05 while the maximum bet per line is $1. The big players can bet as much as $150 per spin. The jackpot on this progressive slot is a mouth-watering $7500.
Wild symbols on reel 3 unlock a special Wild Reel feature where you will be allowed an extra spin. Instant prizes can be won the Dashing Sawyer feature - you only have to receive at least three icons depicting Ben Sawyer on the reels. There are also some more bonus rounds like the Fight Bonus. It's triggered by three Blackbeard symbols just the same way as three or more worker symbols unlock the Grog Challenge.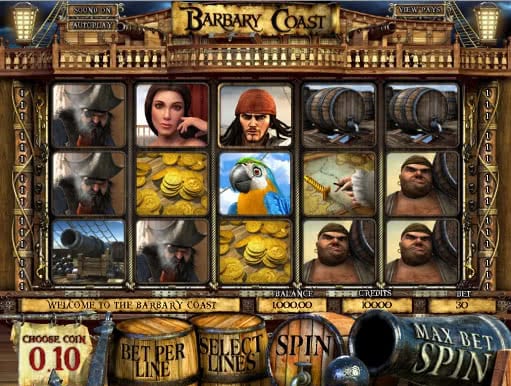 You will love the visuals and the pirates. You will relish the chance of winning real money jackpots online while you have so much fun. Barbary Coast slot machine offers a gaming experience that is difficult to match. So if you want a taste of top notch online casino gaming, Barbary slots is the perfect place to start.