Arrival slot machine for fun
Aliens have invaded the Internet. It`s a good thing the heroes have shown up, too. Arrival follows a brainy alien who is trying to take over the Earth using technology and robots that belong in a late-night B-movie. BetSoft has built another character-driven video slot using the best in 3D graphics to keep players entertained, even if they are not a fan of slot machines in general.
Bonuses of Arrival slot
The Abduction free spin feature begins when the player hits three brain alien symbols. A UFO turns up to give out free spins as well as making one reel wild at random. Three ray gun symbols trigger an instant prize round where players click on flying saucers that the hero will then shoot down for prizes. By the way, here is one more slot related to the theme - Golden Planet from Novomatic.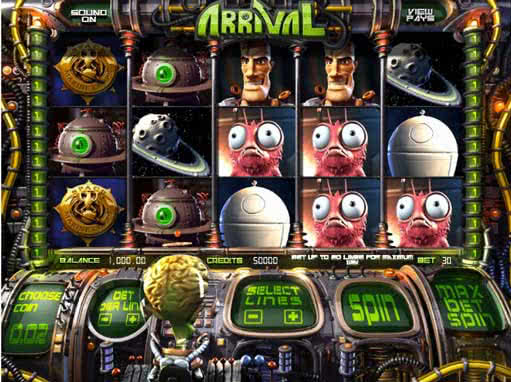 The slot also features a second screen bonus where the female marine, predictably, is trapped in the alien`s laboratory, and it`s up to the hero to free her from the force field. You choose symbols on the keypad and hope that your choice overpowers the one that the alien chose so that the shields can be turned off.
Players can choose to bet on up to 30 pay lines and from one to five credits on each line. Credits can be 2 cents to 50 cents.