Play the legendary Bullion Bars slot
Bullion Bars fruit machine is one of these games that you turn to every time you're tired of new overdone ones. This gaminator is the eternal classics that people don't stop playing as the years go by even though it's simple indeed. But maybe it's the simplicity that makes it so popular.
Gameplay and features
This simplicity can be found in every aspect of the game. First, the number of reels - it's a 3-reels slot machine that has 20 paylines. Second, the exterior - what you see on the screen reminds old fruit machines but it doesn't look dull, however. It's a kind of a mix of modern shiny looks with the older mechanical style.
There's also a couple of special features on offer to make it sure that the game's a pure pleasure for gamblers to play - the Bullion Streak that can be triggered 27 different ways. Another one is the possibility to double your current win in a mini-game and even do it several times running but still it's not enough to make it an unforgettable gaming experience.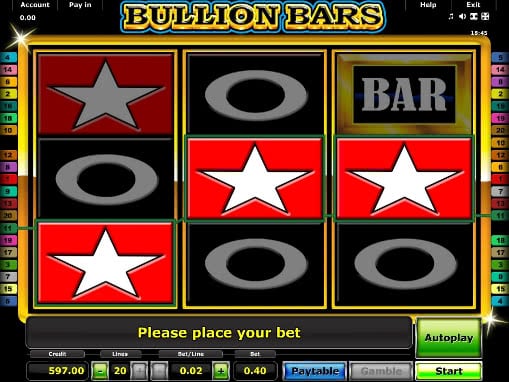 The game had good chances to become a brilliant blend of best traits in older and modern slots, but failed to do that. Sad, but the legendary slot really appeals only to the old generation of gamblers. People who are making their first steps in the world of gambling will rather be amazed by newer 3D slots with 50 paylines than such fruit machines like this.