Asian Beauty slot review online
Asian Beauty slot offers you an unforgettable gambling experience. What else can be associated with the Orient if not beauty, enigma, gracefulness, enchantment and magic? You can find all of them in this wonderful casino slot game from Microgaming. Play for free and enjoy your game. Also check out Tiger vs Bear slot machine for free.
General information about the Asian Beauty game
Asian Beauty slot provides 243 ways and 5 spinning reels in 3 rows. It consists of a wild symbol, scatter symbol and a bonus level. The minimum coin provides 0,01 bet and the maximum coin provides 0,50 bet. Total range of betting fluctuates between 0,30 and 150.00. The jackpot gives you 20.000 coins. When playing free spins bets are automatically doubled. Playing scatter symbol enables you to receive extra free spins (with the par of 10, 15, 25).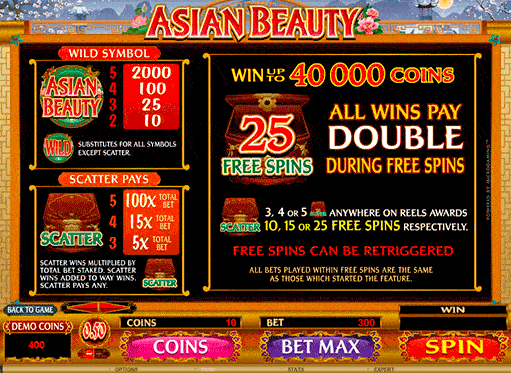 Bonuses and features
Proceeding to the Mirror Bonus leads you to the room with twelve mirrors and you will have to deal with them in order to help adorable princesses. Apart from good structure Asian Beauty slot has something else to brag about. You will be fascinated with perfect graphics and design (for example, delicate lotuses in full blossom), music and background soundtracks which represent the Oriental ancient and rich culture. The Oriental women are indeed of remarkable beauty and you will be given an opportunity to witness it, playing a game of Asian Beauty slot in their pleasant company.