Play Jason and the Golden Fleece video slot
Microgaming presents Jason and the Golden Fleece slot. It has 5 reels and 25 paylines. A wild symbol, scatters, additional free spins, multiplier are offered to make the gaming more entertaining. Don`t hesitate to play it for fun without registration but first of all read a helpful information before starting.
The incredible journey to the ancient Greece
Jason is a main character in this slot. His pictures appear on the reels, in the payout table and during bonus games with his characteristic symbol of the Golden Fleece. There are many positive and negative characters in this slot. For instance, you can play with the princess Medea, the centaur Chiron and the Argonauts. Together with Jason you`ll travel to different places like a kingdom of Colchis, the island of the Sirens, Symplegades (rocks), Moesia and Crete.
The game opens with a lovely soundtrack. Music and tunes can be downloaded just by clicking on the appropriate icons. Animation and sound effects make the game unbelievably realistic and interesting. It is one of the colourful microgaming games ever.
The stakes vary from 0.01 to 125. The most important for you is to choose an optimal bet that will not harm your personal finance. You can make stakes both automatically or manually.
Wild symbol gives you a great opportunity to open access to free games. Having collected three, four or five wild symbol icons you are rewarded with ten free spins and increase the amount of your winnings in three times. In case more than three wild symbols appear on the screen free spins can be prolonged.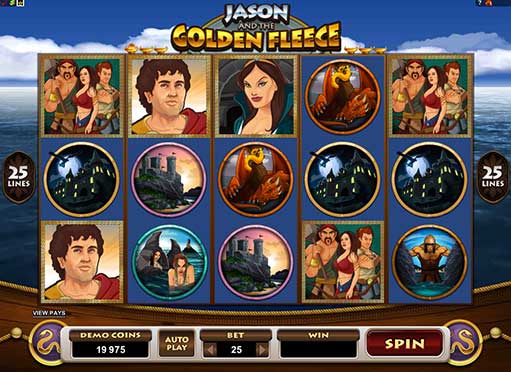 Jason and the Golden Fleece slot features
Three, four or five scatter symbols trigger a Jason`s journey. It`s a multilevel bonus game. You can enjoy the bonuses as follows:
Iolkus – a Thessalian city where you have to select 6 shields out of 12 to receive bonus payments;
a Moesian harpy that allows you select the characters for a combat. In every fight you get bonuses that increase the gain;
Shipwreck enables you to increase your winning twice;
Wheel of Crete – collecting 5 wheels you get bonus rounds and cash prizes;
Island of the Sirens is a card game. For every correct alignment you get a bonus. When you guess the card 4 times you are rewarded with a poker bonus;
Colchis is a destination in the Jason`s journey. Here you need to choose the right potions that will make a dragon sleep. The more efficient the potion the more bonuses you receive.
Jason and the Golden Fleece will especially please those players who prefer multifunctional slots. A wide range of bets is implemented in the game that allow enjoy the gaming process even if you have a small income.