Free Crypt Crusade Gold
There is a fresh free casino game with interesting gameplay for you. Get ready for an underground adventure when starting up Crypt Crusade Gold. This game was created by famous Microgaming company. It is a pretty funny video game that looks like a ludo. So, players have to navigate their little explorer around the screen in search of loot by first choosing a wager amount. The player can change his or her wager at the end of each game. Of course, Crypt Crusade Gold is not a game like other slot machines for fun but it can bring you a lot of free joy.
The dangerous journey
First of all, the player clicks on the new game button and the explorer starts his way. However, be careful and don`t get to traps that lie on your way. If the main character of the game lands on a clear spot or one of the multipliers, he is safe for another round. If he lands on a danger symbol, however, he will be cast into a pit of what can only be very bad things for the hero.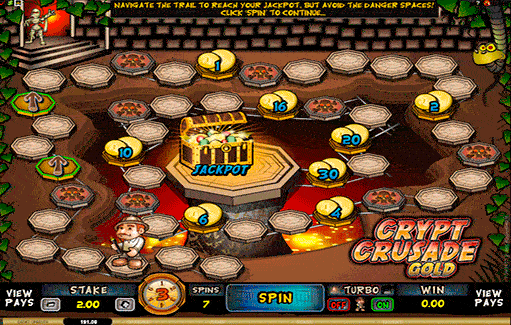 The further around the path the adventurer goes, the more multipliers he picks up, which stay with him even if he "dies". In general, it can be said that it is a perfect game for having fun (like Book of Ra slot), you can win a massive jackpot that can go to 2,000 times the stake. Unfortunately, players won't get to see what the jackpot is until they land on that space. The good news is that this little guy comes back for another try, no matter how many tumbles he takes.