Gold Diggers slot machine 3D
Online Gold Diggers is a great thematic slot, dedicated to the Gold Rush of the 19th century and developed by Betsoft company. Start you own fascinating journey into the California gold fields and make yourself immensely rich.
Find your gold mine
The slot has 5 spinning reels and thirty paylines. The main symbols of the game are two gold diggers, a girl and a gopher.
This slot has options which deserve to get acquainted with. Here there is a bonus game, which is triggered by a symbol of a leaf with the words Gold Rush inscripted on it. In the bonus game you can not only win the prize, but also see some interesting animations. You'll see how two gold diggers run to the reels and blow them up, and then you have to choose the places where perhaps there are reserves of gold.
Quite interesting is a Click me option. You can use it if you had matched three or more gophers. You will see symbols labeled Click me and when you press the button, the gopher digs a burrow where you clicked.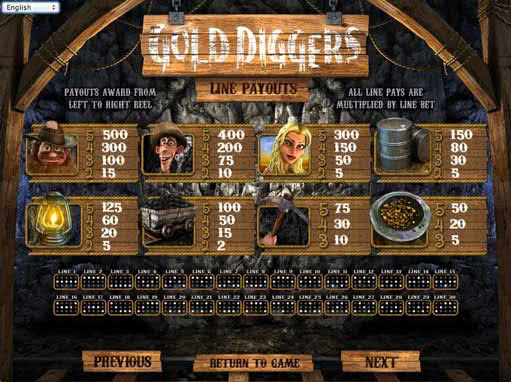 The slot symbols are a bearded gold digger, a thin gold digger, a girl, a barrel of tar, an oil lamp, a coal truck, a pick, a plate with golden crumbs, dynamite, a gopher and a piece of paper with the words Gold Rush written on it. All the characters are equipped with animation: one of the characters removes his hat, and the other searches for gold. Animation makes the game more dynamic and interesting (like at House of Fun slots by the provider).
The most highly paid character in Gold Diggers slot game is bearded gold digger. Jackpot is equal to 500 coins.
Spin button activates the spinning of the reels. Max Bet Spin buttons activates the reels for a maximum bet. Select Lines button offers to choose paylines. Bet per Lines button the number of coins per line can be selected. The buttons look like trolleys full of gold, and when you press them, they are jiggling a little - quite an original solution that makes this slot even funnier.