Mamma Mia slot
Mamma Mia is only a video slot machine, so hopefully you won`t get too hungry while playing. BetSoft is good at finding a theme for their slots and sticking with it for all aspects of the game, and this Italian restaurant slot is no exception.
Cook your win!
Mamma Mia slot game lets the gambler lock in wild symbols in any spot they choose, which means their next spin will have a wild guaranteed for it. The slot charges the player extra for each locked-in wild, meaning the spin will cost more than the regular wager. These wilds also change price due to placement. Fortunately, the game will warn the player if he or she tries to make a wager that is exceptionally high. A lot of money can still be lost or won on a single spin like in Gold Diggers slot from the same provider.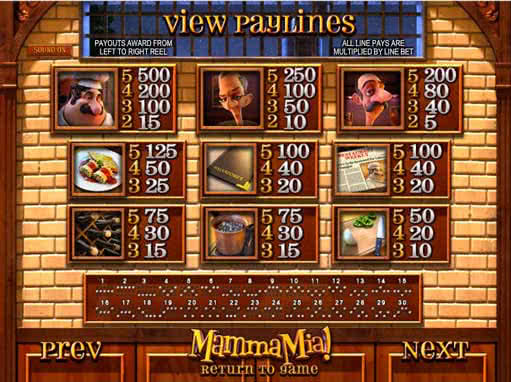 Other bonus features include a free spin bonus where you help to make a pizza with the chef, and a symbol click bonus where clicking on a covered pot will remove the cover and reveal an instant prize. There is also a critic that can show up any time, and when he does, you must help the chef by trying to make the perfect meal and impress him enough to give you a good rating. Mamma Mia is a 30 pay line machine, and up to five credits can be played on all lines.