Slots Angels slot for fun
This is a BetSoft video slot machine that comes with its own heavy metal theme song, complete with lyrics. Slots Angels follows a group of bikers as they hang out at their favorite bar and race their Harley-like bikes around town. This group of tough guys is on your side, though. They want you to win as much cash as you can.
Awesome features of the game
There are multiple bonus features you can claim prizes with, including a second screen drag race where you choose the rider you think will come in first. The three main stars then race to the finish line. Where your guy places determines how many credits you walk away with. Hitting three dartboard symbols triggers the darts bonus round where you click on items to earn instant prizes. Of course this soft is just a demo game but you may read about real online casinos and try your luck using money mode.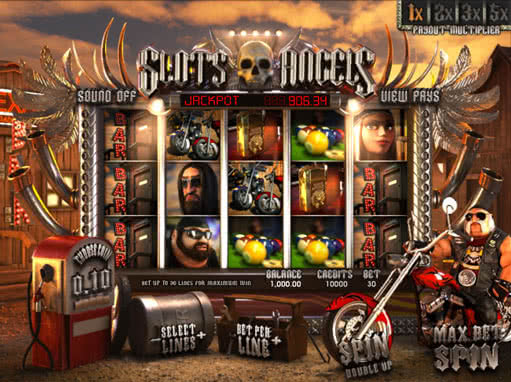 Then, you can try your luck in the free spin bonus, where finding three beer bottles causes the biker gang to come outside the building and cheer you on. The biker chick decides to stand in the middle reel, making all three symbols in that reel wild for the entire free spin round. Even wins on regular slot spins can earn you some major dough if you risk your winnings in the double-or-nothing game. Slots Angels is 30 pay lines, with one to five credits being bet on each line.