Under the Bed slot game
The creatures that scared you as a child are back for real in this creepy 3D slot from BetSoft. The theme for Under The Bed slot machine is the monsters that frighten two children are coming out from their dark places to annoy them and give you credits. The atmosphere is as disturbing as it is cartoonish. If the 3D graphics don`t entertain, there are a number of bonus rounds that will. Qualitative bonuses can be seen in Good Girl Bad Girl slot too.
Monster bonuses from Under the Bed
These bonuses include a second screen bonus where you choose cards to collect credits, but the monsters you pick are unleashed to scare the children. The Monster World spin bonus will trigger 12 free spins. Another feature is the long-lasting wilds, called Scare Tactics, where special symbols with a frame around them will turn wild and stick in place for a certain number of spins. These spins are not free, but the player can gamble with guaranteed wilds on the board for up to 5 spins.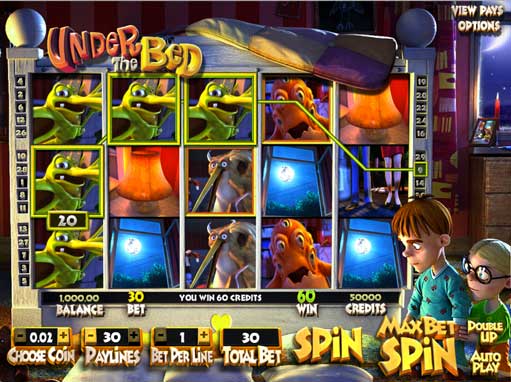 Under The Bed also has an autospin feature and a double-up feature on regular play wins. To gamble your winnings for a double-or-nothing prize, click on the button to choose if the monster`s dice roll will total an even or odd number. Oddly, the monsters seem to be rooting for you here. There are 30 pay lines, and players can bet up to five credits per line.