Eggomatic slot game
This is one of those outstanding projects that are hard to compare with others – so unique they seem. At first sight you don't see pretty much different about it but soon after you take your first spin you discover all those little things and great new features that make the video slot so excellent.
Eggomatic slot`s features
Well, the amount of reels and paylines seems quite ordinary in Eggomatic– 5 and 20 respectively, but when you look into its features – that's where you are going to be amazed. The first little thing that attracts your attention is your new ability to click on a symbol right on the reels and see its payouts without reading the "paytable" page. Next, you notice that nothing in the design is just for fun – everything can be seen on the screen has functions: the Rooster (which is WILD) has created this EggOmatic. It produces eggs that go onto the conveyor belt which is found above the reels. So, check out all features of the game. Webslotcasino presents this demo for you.
When the Rooster symbol appears on any reel under the egg on the conveyor belt, the egg falls and you get the prizes hidden in an egg. There are 4 kinds of it: Spreading Wild egg, that turns all symbols adjacent and diagonally placed, Free Spins egg, that activates the number of spins on the egg (up to 50), Coin egg that adds the number of coins on it to your win (50-2500), and Surprise egg, which has one of the aforementioned functions.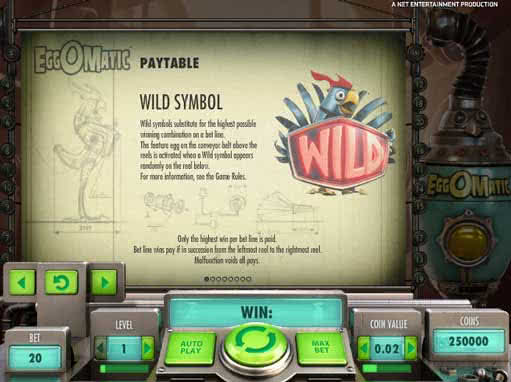 Well, in a complex with amazing graphics and sound effects, thought-out details and general sense that the developers did their best, this video slot is definitely worth your attention!