Online Bratva slot for free
It`s the age of the mobsters and the men who stop them according to this slot machine, brought to you by game makers Unicum. This machine is popular with Russians, and is made for them, which means anyone who can`t read the Russian language will need to poke around on the buttons to figure out how to play.
Features of Bratva slot
The name of the machine translates to "Fellowship" or "Brotherhood" (Russian players search it like игровой автомат Братва). The player follows some mob-like characters and some cops who are trying to bring them down. A bonus round lets players choose from to cases to find loot, but choosing the wrong one makes a siren go off and ends the round. Like many video slots, Bratva offers players a chance to double up on their small-time wins by playing a double-or-nothing game. In this case, it is a cup and ball game, where the gambler has a 50 percent chance of choosing one of four cups to find a metal ball inside.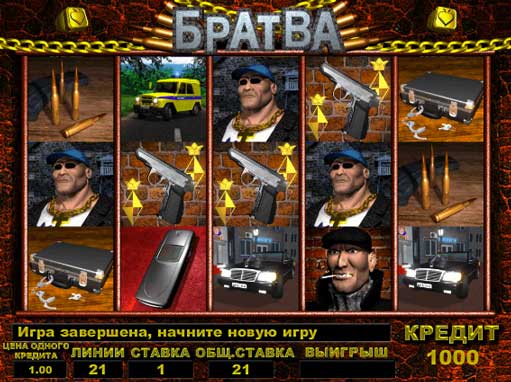 There are 21 pay lines and five reels. Players can bet one to 100 credits per line. Since the controls are all in Russian, it may be a good idea for a new player to take advantage of the play chip mode of the game before wading into the waters of playing for real money, just to get a feel for which buttons do what.