Winterberries Slot Review
Pick up Winterberries slot machine from Yggdrasil for creating the most delicious winning combinations on its 25 fixed lines. This game features multipliers and frozen re-spins, so if you collect only one berry from left to right your awards will be increased five times. In addition, its basic seven symbols that build the slot have generous and beneficial payouts too.
Delicious And Beneficial Berries
There are only seven winter berries that create this modern 3D slot. On its five reels you can gather to your basket red bilberry, blueberry, cranberry, sandthorn, fen-berry, blackthorn and berries mix. As you see, this game is based on classic "fruits scheme", moreover, it triggers a kind of jackpot if you manage to fill the whole field with one picture (for example, with only blueberries). This "jackpot" is created with multiplier principle – more reels are filled with one icon, the higher it is. It is started with x2 and goes to x5.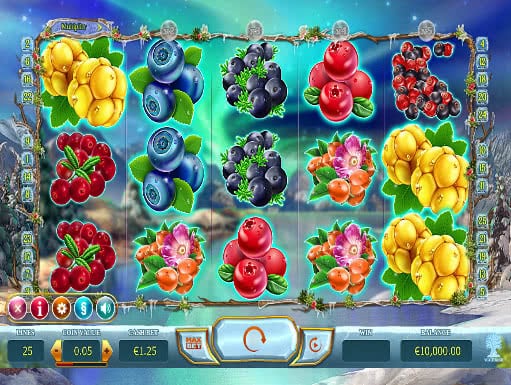 As about another bonus in Winterberries slot game – frozen re-spin, it is launched with any winning combo appearing in round. For example, you have just collected three of a kind with mix of berries. These three pictures will be framed with ice and stuck to its place. After it, re-spin will be started. If mix of berries symbol drops on the reels again, it is frozen too and another re-spin is activated. So, this bonus lasts until there will not be any mix of berries in a view. If other combos are assembled during this feature they simply pay, but not stick to its places. We managed to fill almost all reels with mix of berries (13 from 15) and earn x3 multiplier with the general reward – 3,765 euros (753 coins with 1 coin equal to 5 euros).
The most luxurious icon is a ripe cranberry. For five of a kind with it you will get 500 credits, after it comes blueberry – 150 for five on the chain. Another beneficial berry is cranberry – 75 credits for five of them. As about cash prizes, they depend on the coins value set per spin.
Harvest Your Wins In Winterberries Slots
So, as you have understood, amount of payouts depends on the coin denomination. Alter it with Coin Value selector from the minimal 0.01 euro for one coin, up to the highest - 5 euros for one coin. Changing this parameter you can increase or decrease the general wager. In addition, you can activate Max Bet pressing on one single button – Max Bet.
Winter Berries slot is developed with fixed amount of lines – 25, so after you place appropriate wager, you can start playing the game in ordinary mode activated with Start button, or in Auto Start setting amount of rounds from 10 to endless one. Advanced configurations for this mode can be regulated from the Settings area. You can establish conditions for breaking it for example, reaching single win at least 100 euros (amount is variable) or if your cash balance increases/decreases by 25 euros (amount is variable). Also from this area it is possible to customize sound and visual effects of Winterberries slot online too. You can change speed of reels, make sound level lower or higher.
For payouts and rules apply to Paytable and Rules sectors.