Win big with Kings of Chicago
The classic features of poker and best elements of free slots online meet in Kings of Chicago. Free Deals, Joker Card substitution that works for all cards and Poker Hands are there to supply ultimate pleasure from gaming hours.
General features of Kings of Chicago slot
A single deck of cards involved in the game is being shuffled to begin a new round. A player can make bets on 5 lines at different levels and by means of coins of different value. As soon as the bet level is denoted (by Level button) and coin value is set (by Coin Value button) the big green deal button must be clicked on. Set your maximum bet with the MAX BET and play automatically when you click on AUTO. The paytable displays all your winnings except for those with Scatter labels.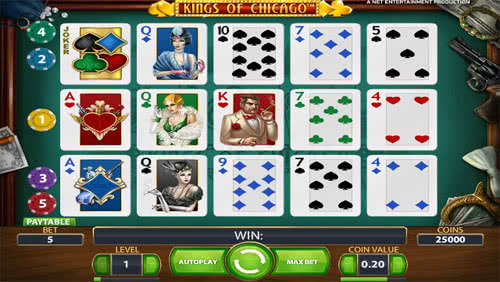 Symbols and winning poker hands of Kings of Chicago slot game
Scatter symbols can turn up over any card without changing its value. If in the main game Scatter symbols turn up on three or more cards on the bet line, the player can take use of Free Deals. And three or more Scatter symbols turning up in Free Deals activate another Free Deals feature. These are just like those in classic poker. There are nine of the hands rating from the smallest of Three of a Kind and finishing with the biggest of Natural Royal Flush.