Thrill Spin slot review
The scene and decorations of Thrill Spin slot fit in their best the gambling topic and are extremely successful NetEnt choice as if we are visiting Amusement Park or playing casino – we feel thrill from our inside!
Symbols of Thrill Spin slot
The Thrill Spin symbols are various carousels, money, ice-cream with two special symbols like Scatter (a fellow with balloons) and Wild (a girl riding a roller-coaster). The Scatter's function is to ensure fifteen Free spins getting three or more times on the reels and as an additional bonus, Free spins winnings are tripled. Wild supersedes other symbols apart from Scatter and Wild winnings are doubled two. However, supplier warns the customers that some options are not working at Play for Fun mode.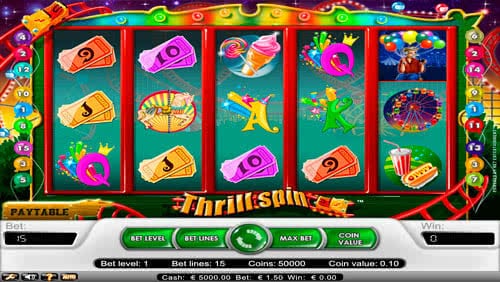 Special features of Thrill Spin slot machine
In Thrill Spin five reels slot the bet available is up to fifteen lines with up to five bet levels. After choosing Max Bet option these indexes increases to their top meaning. As a typical option for all slots the Auto play mode is provided along with Paytable for checking winning features and line combinations. In the course of Autoplay game Advanced autoplay option is activated by pressing Advanced Settings button. Advanced Autoplay game can be interrupted in some cases which are stopping if Free spins are won, if cash increases/ decreases by, on any win, if single win surpasses. You can also try another free slots online.