The Lab Slot Review
To become a scientist and create weird mixes of elements, there is no need to visit laboratory, just launch digital Lab - slot machine which is powered by Elk Studios. This casino game consists of five reels and has two versions: a regular flash game for PCs, which can be launched right in your Internet browser, or a slot designed specially for mobiles, for those players who can't spend too much time in front of their monitors.
The Lab Slots: Create Your Mix
Now let's see what do Elk Studios offer to beginners in an uneasy science of gambling. Well, there's definitely something to choose from! Elk Studios represent chemical elements such as oxygen - O2, water - H2O, gold, which is marked as Au. It won't be hard to guess, that gold is the most valuable and highly paid icon - up to 60 coins will be awarded to those who put five of them together on the paying line.
Various crystals - probably, the results of numerous experiments - can be also found on the reels of The Lab slot game. They are spinning in the ridiculous dance, bringing higher and higher rewards. Green molecules are appreciated most: five of them can cost up to 1000 coins.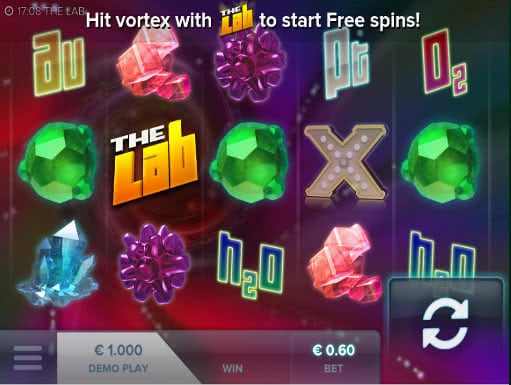 Same as other slot games powered by Elk Studios, this one obtains different bonus icons which are activators for various prize features. Logo of the game, Wild symbol and X sign - these are the heroes of the day. By means of first we activate Sliding Reel feature and a special round consisting of free spins. The X-chromosomes are Scatter pictures - owing to their appearance on reel the wins and earnings can be doubled.
Perfect Match For A Big Prize
The Lab slot online doesn't have a complicated interface with lots of buttons - and that's one of its advantages. Before the game starts, set the correct number of coins you are ready to put on stake, and after that use a round button in the middle of transparent control panel - that's it! Now enjoy the colorful whirl of reels and hope for the luck to visit you.