Super Eighties
To many players Super Eighties slot powered by NetEnt brings a light smile and a feeling of nostalgia. The images of retro cars, consoles, phones, cassette recorders and stylish shoes that go as basic slot symbols return unforgettable Eighties to life in your imagination. And apart from classical for 1980s pictures the player can also listen to the best musical hits of that time.
Features of Super Eighties slot
Structurally designed as four-rowed and five-reeled machine it has fourty-bet line and presents such promotions as Stacked Wilds (the symbol of 80s), Scatters (the girls image) and Free spins.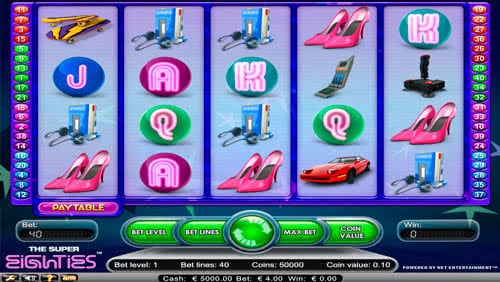 Symbols and bonuses of Super Eighties slot machine
Extensive promotion system is that prevents the users from interrupting the game as the chain of bonuses following each other increases the excitement.
Free Spins are submitted by the quantity of lines and bet size set in the regular round. Three randomly placed Scatters ensure five Free spins in both bonus and primary games. In Free spins games coin value doubles. If you managed to collect three Scatters in Free game it can pay the bet ×2 and bring five free spins in plus. General Free spins Win consists of not Free spins only but also wins of the regulate rounds which caused Free game.
In light of aforementioned one can conclude that beloved for lots of people topic of Eighties, pointful musical implementation and wide bonus system make this game popular among large amount of free slots admirers.