Play Victorious slot
There are lots of slots themed after different countries, cultures, ages and epochs. NetEnt's got lots of history-themed slots but this is the first one themed after gladiators! The developers promise to make you the conquerer and that all victories are going to be yours, but let's see what they've got for you to make it come true.
Victorious features: what makes you the winner
This slot is truly unique – it's not just the first slot of this theme for NetEnt but it's also one of a few slots that have got such a huge quantity of paylines – as many as 243! The player is surely going to be impressed when he sees the figures in the review but when he starts the game, the impression is going to grow incredible.
The design of the game was taken great care of – any element you look at is beautifully drawn and is themed after the times of legionaries. You see the warriors both in the background and on the reels, moreover you find the Roman style in architecture and font of the play cards symbols. Everything you see seems to be steeped in this atmosphere. Also, check out Gladiator slot for free.
Considering the symbols, they are not just beautiful and unique but also really lucrative. Caesar is the most expensive one – it awards you 100 credits for 3 icons of a kind, 500 for 4 and 1500 credits for 5! Other characters leave you a great deal of coins too. Here are the biggest payouts: 400 credits for 5 images of the legion, 500 for 5 images of a single legionary, 400 for 4 icons and 1000 for 5 icons of the commander. Other payouts you'll find in the paytable.
But the real victory comes when you find special symbols on the reels. The wild symbol has classic functions and substitutes for any other symbol but the Free Spins symbol may award you up to 25 spins with an unbelievable multiplier – x50!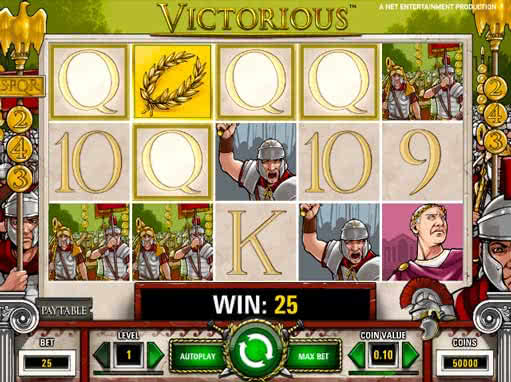 In general, the game doesn't have pretty much features but the number of paylines makes up for it a hundred times. This fact alone makes it worth playing. And any gambler will admit that other aspects, such as design, graphics and sound effects, are first-class. But don't take my word – go take your first spin and see for yourself!