Monte Cristo slot
Have you ever had a desire to go to a distant island and look for treasures there? Have you ever imagined yourself as a treasure hunter, appreciating old things and ancient items? Now your dreams have come true. With Monte Cristo slot by Cryptologic you get a chance to experience everything mentioned above.
Become the member of the expedition to Monte Cristo with people who search treasures. Be brave and enlarge your estate. The unique atmosphere of a faraway island will add to your adventurous spirit and desire to play the slot and win money.
Monte Cristo features
No reels, no paylines, just rest and pleasant time in a type of an arcade game. The game is about leading the jumping ball to go through the woods and collect treasures hidden there. For you not to get bored while playing two various levels are available.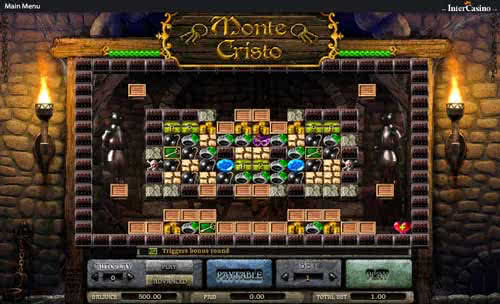 Looking like a standard arcade game, Monte Cristo slot also has something special about rules. It is not a common game. Here you should be risky to get benefits. Before pressing the Play button you need to choose the value of each coin. It may vary from $0.02 up to $500. When you have made your mind to start, you need to gather as many symbols as possible, as each of them add to your winning.